14 Nov 2018 - 6:00pm
As another productive year rapidly approaches its festive season, the Kyeamba Valley Landcare Group invite everyone to join us for our Christmas BBQ on Wednesday November 14.
The event will be held at the Ladysmith Hall. Join us to share a BBQ before we go into KVLG's summer recess. Children are welcome!
BBQ and salads will be provided; please BYO drinks.
Please RSVP by Mon 12 Nov, with number of guests, to:
20 Nov 2018 - 6:30pm
We are excited to invite you to hear award winning Landcare champion David Marsh speak about his agricultural journey of change. David will share insights gained through over 20 years of holistic farm management. 
Date: Tuesday 20 Nov
Time: AGM will commence at 5.30 pm, with dinner and presentation to follow from 6.30 pm
Location: Junee Hotel
» read more
21 Nov 2018 - 6:00pm
The 2018 AGM for Eastern Riverina Landcare Group will be held at the Mangoplah Hotel, from 6.00 pm on Wednesday 21 November. All community members are very welcome to attend!
RSVP
Dinner will be provided, so it is essential to RSVP by Friday 16 November, to allow for catering.
Guest speaker - David Marsh
Our guest speaker is Boorowa grazier David Marsh, winner of the 2018 Australian Government Individual Landcarer Award.
22 Nov 2018 - 5:30pm
Yass Area Network of Landcare Groups invite you to the 2018 Landcare Awards Dinner & AGM
We are delighted to have guest speaker Dr George Wilson, honorary Professor, ANU college of science, speaking on "Improving kangaroo management- time for action".
The event will be held on Thursday November 22, with the AGM from 5.30pm, followed by dinner & awards from 6.30pm. 
» read more
25 Nov 2018 - 11:00am
Wagga Wagga Urban Landcare invite you to join us for our Christmas party and AGM. Bring your family along, and help us celebrate another year of successful Landcaring!
Sunday 25th Nov from 11 am at the Wagga Beach
Free BBQ, please BYO drinks & chair (and swimmers, if you're keen!)
» read more
On the 29th and 30th of September a few of us attended the Annual Bird Tours at Rankins Springs hosted by the Lachlan Fold Wildlife Action Group.
It was an early start on the Saturday with a 6:00 am loading onto the bus.  In the morning we visited three different sites and used one of these stops as a morning tea stop.  Lunch was at the park next to the Hall in Rankins Springs.  The food for morning tea and for lunch was excellent.  Lunch was interrupted by birding and in particular some disappeared across the road chasing the elusive Spotted Bowerbird that on this occasion wasn't that elusive.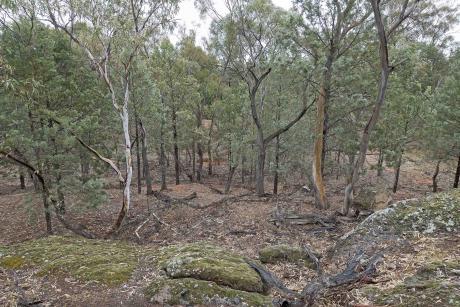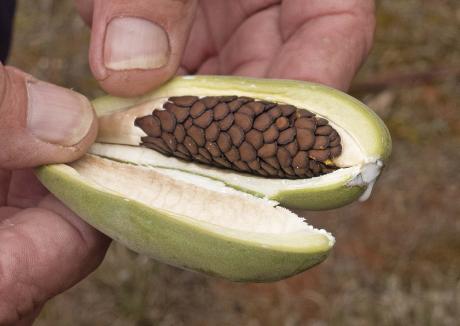 A small group of MFNs and Max Harris, a local Koori man, gathered at the Mallinson Road site. After a brief discussion on the unlikelihood of adding new season annuals to our autumn plant survey list, due to the dry conditions, we decided to survey a different site off the Rankin Springs Road. The Wiradjuri name for the site is Wirrimbirra (keep, preserve, take care of) Yalul (always).
Wirrimbirra Yalul has rocky outcrops on a hill with gentle slopes that lead down from it. It's several hectares in area but due to frequent rain showers which eventually became heavier, we didn't explore the entire patch. On our arrival, Max pointed out stone artefacts (and their traditional uses) near the remains of a gravel deposit. He was very informative about Wiradjuri history and culture as well as the flora and fauna of the place. We had interesting exchanges about cultural bias with scientific names and common names, in English and Aboriginal languages. Max is well versed in all three naming systems and is very generous in sharing his knowledge.
In listing the plants and birds we noted at Wirrimbirra Yalul, the Wiradjuri names are added as they are recorded in "A New Wiradjuri Dictionary" compiled by Dr. Stan Grant (Senr) and Dr. John Rudder,2010. Words with * indicate they can be heard on the Free Wiradjuri Language App where they are pronounced  by Wiradjuri speakers, listed under the English common name. There are hundreds of words and phrases listed there to explore. A brief pronunciation guide for readers not using the App is provided at the end of the list.
27 Nov 2018 - 6:30pm
Tarcutta Valley Landcare Group invite you to join us for our Christmas celebration!
We will have a BBQ at 'Miowera', Humula.
David from the award-winning Plastic Forests will join us to talk about their innovative program recycling silage wrap.
For more details, or to RSVP, please contact Nicole Maher (nmaher@mli.org.au)
» read more